Oh man, a shower never feels better than after a weekend in the river. Hot water on my skin with soapy bubbles is a luxury. After a four hour drive from North Carolina, I made it to gorgeous West Virginia in time for the Gualey River Fest at a small primitive campground with fire pits and a pretty hillside. Made some new friends immediately after I drove too far down the dirt driveway and decided I needed to turn around. I had my windows down and some mid 50s guy with a blond ponytail and a quilted poncho yelled "don't hit my RV!" 
I was two feet away from his rig, so I smirked and answered "no promises!" 
He came up to my car and asked me my name, I asked him his, and he said "Bodecker!" with a drunken grin. I thought back to my phone conversation with my neighbor* Ashley, and she teased "don't talk to Bodecker!" So what do I do? I back up into a spot and sit around the campfire with all the people who picked this corner of the campground as their own. 
*When I say neighbor, I mean I parked in front of her neighbors house for a few months and so that made us neighbors. We like each other. 
Saturday morning comes, everyone is bright and sunny... mostly. At least after coffee and breakfast. We get the shuttle set up, sending two cars to the take-out, while the rest of us get the rafts and beer coolers ready. Everything went smoothly except that the other car forgot to grab Neil on the way down so he had to hitch a ride from some other random people. We had faith he would make it. 
We finally made it to the put-in; PFD's, paddles, dry suits, and all. Two boats in the river, and perfect weather, it couldn't have turned out to be a more incredible day. Neil guided us through great lines on some gnarly rapids, eventually switching off and letting Jesus take the wheel, *ahem* I mean, Ashley. She ran some great lines too, until we got to the rapid called MASH. Well, she ran the top perfectly, but at the bottom half we hit a big wave kind of sideways and the water washed me and Neil completely out of the boat. Suddenly I was in white water even though I swore I wasn't going to swim that day. I hung onto the chicken line laughing my ass off while we ran the rest of the rapid. Ashley finally was able to pull me in, then I pulled Neil in, and we high fived because it was fucking awesome. 
Not going to lie, we were pretty tired, so we stopped down river where some surfers and kayakers were splashing in the water to eat some food and take a break. Ashley's face was burning up so a sweet kayaker traded a few squirts of sunscreen for a PBR and we were on our way. I took over as guide at the point and had an incredible first run of the Gauley. It felt that everything had clicked for me, like I slept on it a bit and woke up knowing exactly what to do. Neil said I like to hit the classic wave trains and that it's a blast to have the water spray you in the face with huge amounts of force as we slam into the surf. I had great coaches to watch and learn from, though. But I can confidently say that I can read a river pretty well nowadays. The Gauley is a huge step up from my little baby Nantahala River experience last season. Next up this week is the Chatooga in Georgia, which for me, will be the biggest river yet.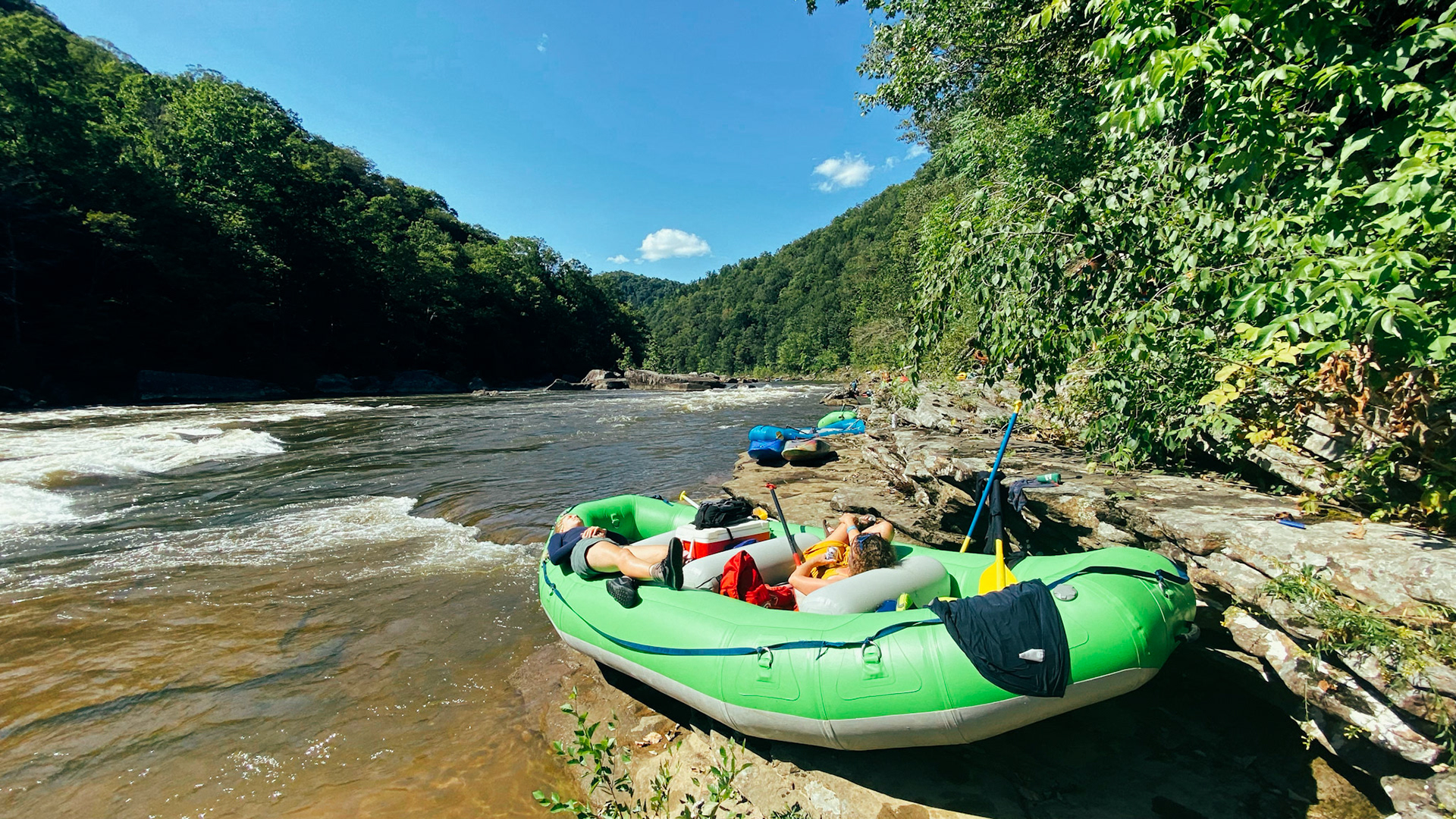 The best part about this weekend getaway is that I was able to test out my new rig, Ivy the Subaru. I built her out on Friday before I left for West Virginia and I was confident that I would be comfortable. I honestly love having an open air rig, it makes so much more sense to me, and it's easier to upkeep. Simple is better. My bed is comfortable, I figured out what I need to change and adjust, and I only have one day to do it, but hey, the sooner I get it done, the sooner I can get adventures going.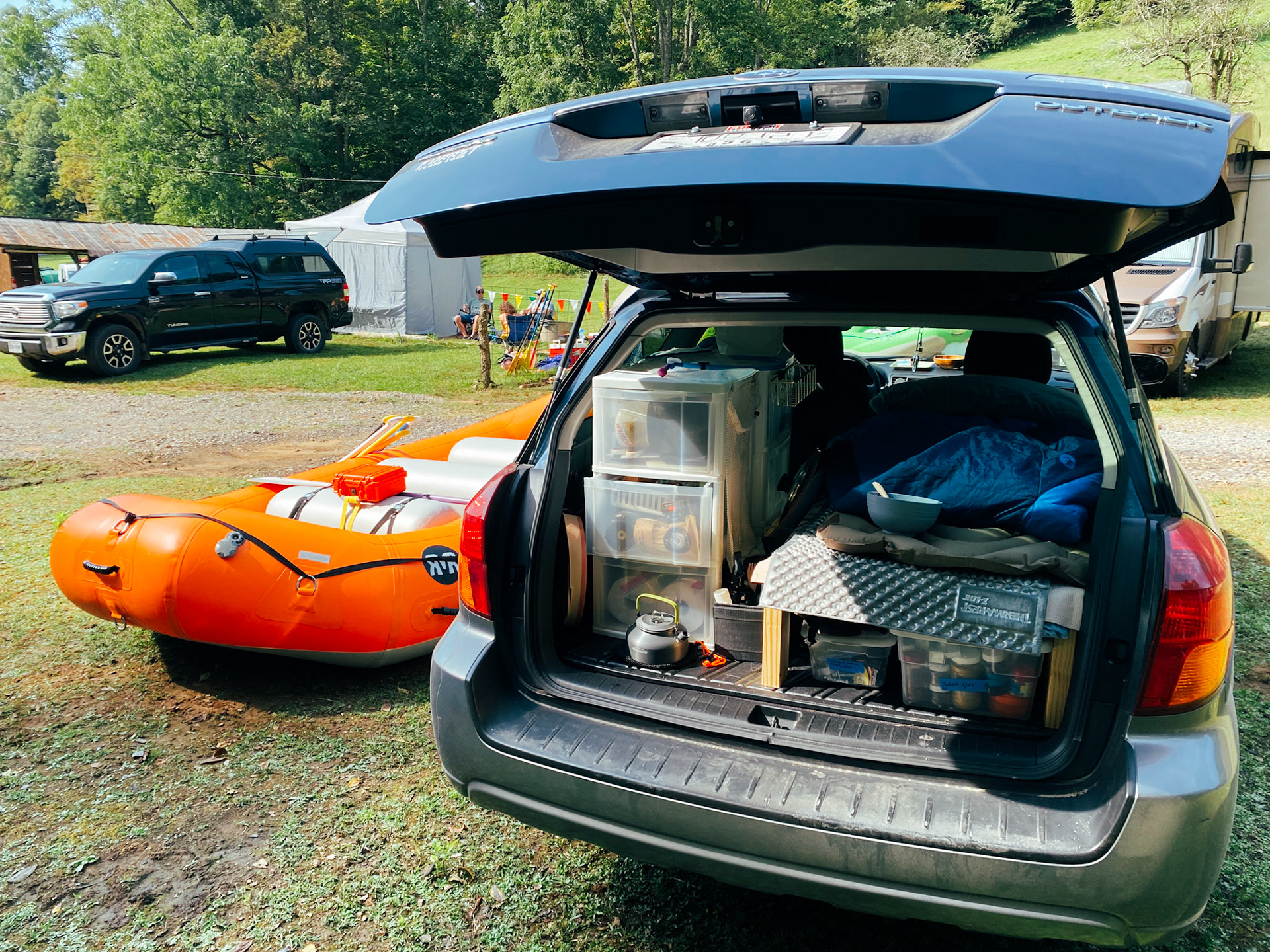 The second best part about the weekend was not having signal. Not once did I even think about my phone, though. I left it in my glove box most of the time. I've been reading a book by Cal Newport, called
Digital Minimalism.
 I'm not going to ruin the story and arguments he makes in his book, but it basically goes like this: social media and the constant need to be on a digital device is toxic and is changing faster than we can adjust. It's making us anxious, and reliant on meaningless interactions. Quit all of that for at least thirty days to reset and then rebuild your relationship with these digital tools, especially your phone. 
So I'm trying to take that to heart, because the arguments Newport makes in his book hit me hard (please read it, its a shorty and a goodie). I'm going to quit Instagram until grad school, which is about a year from now. Then I will decide what I want to do from there. But I want to continue to share my story somehow, which is why it was so hard for me to quit social media in the first place. How would I get someone to pay attention to what I was trying to say if I didn't put it in front of my "audience"? Well, thing is, even if they hit the heart button, they might not even be paying attention. I will only get a small percentage of people reading my series, but I'm okay with that. These people are the ones who I feel truly care about what I have to say, and I care for them as well. 
Another goal I have set for myself during this time of ghosting Instagram, is to become a better writer and storyteller. I already have a love for writing and I think I have a decent grasp on how to pull people in but I want to be REALLY good. Also, photography. Just using my camera more than just in really big moments. I will finally have time to practice that, because instead of scrolling for 30 min to an hour a day (all in all), I will be sitting down to write or taking photos, using my time getting all my creative juices flowing. 
Ghosting Insta will also open doors for me that I otherwise wouldn't have seen because my eyes were glued to my phone. More amazing experiences will come my way, like this past weekend on the Gualey. It will be more fulfilling to be present with the people I love, rather than letting my mind wander elsewhere. I'm excited to see where this journey goes, although I'm nervous to find out what a world without constant connection actually feels like. I guess we will see. 
xoxo,
Jules
​​​​​​​